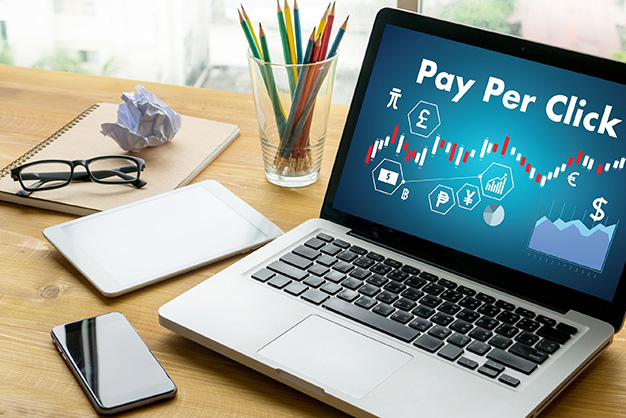 Pay-Per-Click Advertizing Services
Whether you'd like to start afresh or optimize existing PPC campaigns, Dot Angle provides 3600-degree effective Google Ads management & PPC marketing services.
With 7+ years of experience in PPC services, our experts run both search ads as well as display ad campaigns on Google Ads platform (previously known as Google AdWords). We know that only traffic is not enough and understand that pay-per-click advertising is about driving conversions. More & more conversions each month. From keywords, bid strategies & management, location targeting, to reporting – our team of PPC management professionals can handle it all for you.
The Best PPC Services Company for Google Ads Management
Google Ads Management is complex so, our full-fledged PPC services are meant to make it easier for you & meet your business goals
Google Ads Management Services

Search Engine Marketing is not easy. But our expert PPC consultants handle it quite well. We make Google Ads management easier for you. Whether you'd like to set up a new account or optimize an existing one, Dot Angle is the best PPC company in India to count on. From account set up to keyword research and from bid management to conversion tracking set up – our PPC experts take care of everything that you need.
Search Ads Services & Management
PPC search ads are text ads that appear above or below organic search results. Our Google Ads services help your ads appear on the top of results to gain maximum conversions within the budget. Target the right keywords, decide the right keyword match types, launch the ad copy, optimize landing page, set up conversion tracking, target the right audience / locations and you're set to go. Connect with us to today for higher ROI
Display Ads Management & Services

PPC display advertising is booming. Show display ads to target audiences and catch their attention with ad remarketing. As the best PPC company in India, Dot Angle understands how business goals are achieved with paid advertizing. Connect with our PPC consultants today to strategize your Google Ads &. Stop spending and start generating leads with the leading PPC management company.
Google Ads optimization Services
Audience not converting? Get rid of irrelevant budget-consuming clicks and optimize your ads further for conversions. Our team of Google Ads Management services will help gain clicks from highly relevant searches of your business offers and generate leads. Whatever be the problem, our PPC consultants will have it solved for your instantly. Contact us today for a proposal from the top digital marketing agency in Mysore, India
Our Full-Fledged PPC Marketing Services
Set Up Google Ads Account
Paid advertising begins with a Google Ads account. We set up the account, campaigns, ad groups, billing & payment information for your business to start reaping the benefits of pay-per-click advertising. Setting up the account is only the first step, the account further needs:
Linking to Google Ads account with Google Analytics to record all the data
Conversion tracking set up – Enquiry form submissions, Calls from ads, Button clicks, page visits, store visits etc.
Get in touch with us today to generate leads through paid advertising.
Ad Campaigns Planning & Reporting
Before you decide to burn the money down. Planning is important. As the best PPC services company in India, Dot Angle offers critical ad campaign planning services because here's where conversions happen.
How many ad campaigns does your business need?
How many Ad groups under each campaign can be set up to get the most of your Google Ads spending?
How many keywords to target?
What locations to target?
What are the right audiences?
What is considered as a conversion?
Let our PPC experts know, sit back and relax. Our Google Ads management services take the burden off of your shoulders.
Keyword Research & Match Types
Every industry is different and customer behaviour on the internet is highly distinct under each industry. As the best PPC service provider, Dot Angle understand the user behaviour and search intent to:
Target the right keywords
Plan the right keyword match types – Broad match, exact match & phrase match
Negative keywords – words that you do not want the ads to appear for. This boosts relevancy & saves cost
Optimization of the top performing keywords & top converting keywords
Connect with the right PPC consultants for unbeatable google ads services.