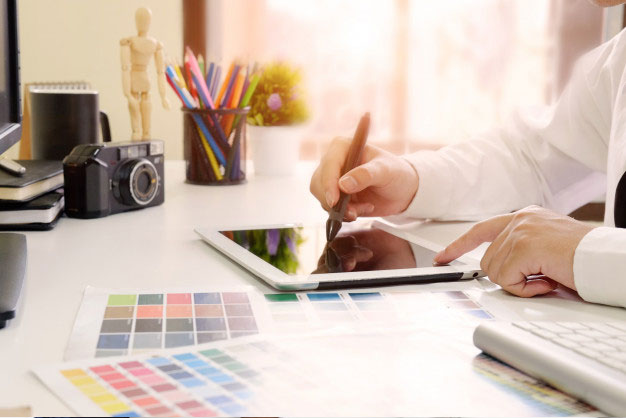 An Exemplary Graphics & Logo Design Company
Whether your business needs an awestruck logo, an aesthetically pleasing website, a jaw-dropping newsletter, or a mindblowing social media post, we deliver graphic design solutions just the way your audience likes. As a graphic design company, Dot Angle has proven its expertise time and time again. We offer immaculate, unambiguous, and highly ingenious designs that complement your brand in every look and on every platform. Our team of graphic designers understands a picture is the best way to instantly convey the message and we let an opportunity slip away. 
Irrespective of the devices your audiences are on, our expert designers develop visuals that are highly responsive and freeze the thumb scrolling instantly. We design websites, brochures, emails, logos, videos, images, icons, and every other solution that demands "designing". Our graphic design services are not only aimed to help you get notices but also raise brand identification, recognition, and reputation. 
Our Full-Range Graphic Design Services
As an eminent logo and graphic design company in Bangalore & Mysore, Dot Angle caters to an exhaustive list of graphic design needs
Our custom logo design services are a blend of symbols, calligraphy, art, and aesthetical elements that bring recognition at a glance. A logo stimulates emotions and actions for customers to better interact with your business and our logo designers understand it better. Have an idea? Or get in touch with our designers today to sketch out the best logo for your business.
The trend-setters in the designing world – Illustrations are a highly expressive way of communication & marketing. Regardless of where you'd like to use them, our digital illustrations designers have the best to get you through your visual message expressions. Websites, social media, presentations, digital cards, digital brochures, digital book covers – we offer everything illustrative right here.

State-of-the-art digital brochures that are personalized to your business. With our holistic range of graphic design & content writing services, Dot Angle delivers highly professional brochures that include details to layout perfection, efficacious message delivery, and powerful business presentation. Irrespective of the audience and occasion, our designers tailor personalized brochures for any event.
Be it Facebook, Instagram, LinkedIn, or Twitter, highly engaging creatives (images) is what it takes to gain followers, boost engagement on the profile, and generate revenue. Dot Angle is known for its highly creative social media graphic design services. We create content that demands attention.
Corporate Presentation Design Services
Digital company profiles and presentations are trending. And Dot Angle knows how best you can present your business to your audience. The slide decks are highly personalized according to the message and subject matter you want to convey. We tailor designs, pitches, and content that would make a stunning business presentation overall. Need a business presentation to be designed? Get in touch with us now.
Newsletter Design Services
Newsletters are known to connect your business with your existing as well as potential customers. Emailing highly informative newsletters to your customers in tested intervals is crucial. Dot Angle drafts & designs highly aesthetic newsletters according to the subject & message you like to convey to your audience. We focus on details that get your users to open, read, and interact with your emails.
Infographics Design Services
Abundant information in just a picture – An infographic is a fantastic way to interact with your audience and one of the best opportunities to get widespread attention to your marketing message. Dot Angle as a creative graphic design company in Bangalore and Mysore delivers high-quality, state-of-the-art infographics to be used across various digital platforms. Partner with us today.
Dot Angle designs high-quality virtual business cards and visiting cards because we understand a business card speaks more than what it is intended to do. A virtual business card in a virtual era is what brings your business an escalated identity and recognition. Get in touch with out corporate card designers to share the ideal design you have in mind and get just what you are looking for.